Insurance Appraisals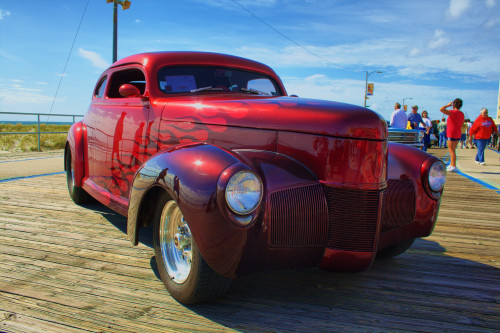 The Difference Between Agreed Value Insurance and Stated Value Insurance 
Classic, Collectible and Custom Vehicles need to be properly insured.
Classic, Collectible and Custom vehicles typically have stable values and appreciate with time. Because the values are unique, an "Agreed Value" insurance policy is the only way to protect your collectible automobiles. The agreed value is an amount which is agreed upon by you and your insurance company based on your car's model, year, and documented materials, labor hours, and parts used during the modification process. Agreed value policies ensure that, should you ever have to make a claim in the event of a total loss, the sum of pay-out will be based on your policy as the "agreed value". 
Most auto policies issued by major insurance companies are for "stated value" coverage. Stated value determines how the insurance company rates your vehicle but doesn't determine how much they will pay you if your vehicle gets totaled. They usually word the fine print in a stated value policy in a way that allows them to pay out the stated value amount or the actual cash value, whichever is lower.
Owners of collector vehicles should consider agreed value policies and take care to not get the two confused. It's a good idea to verify the type of coverage you must avoid an unfortunate situation in the future.
Because appraisals are required for agreed value policies, coverage is with no hidden "gotchas". If your car is stolen or totaled, you will receive the agreed value with no hassle.
For customs and show cars, the replacement value can exceed the fair market value, or actual cash value, for these vehicles. That's why it's especially important to have an agreed value policy. The replacement value of your street rod or show car needs to include the cost of a donor car, the cost of materials, and pay for the hours of labor to replicate these custom-built vehicles. An appraisal is not only important for getting an agreed value policy, but in the event of a claim, having an appraisal from Auto Appraisal Network Detroit will be invaluable for establishing the value of your vehicle with the at-fault party.
Our Replacement Value appraisals include:
A digital copy of the appraisal. 
(Available within 7-10 days after the appraisal, depending on difficulty of locating comps)
A printed bound color copy of the appraisal. 
(Available within 7-10 days following the digital disbursement)
Pre/post-inspection file administration.

Approximately one hundred digital images of the vehicle

A detailed condition report

Custom options list.

Comparable national pricing provided by our corporate office.

An in-person vehicle inspection.

Travel within twenty-five miles one way. (Travel further than twenty-five miles will incur a travel fee of $50/hr. of travel time.
The inspection takes about 45 to 60 minutes.
---
Agreed Value Insurance: For classics, collector vehicles or custom cars
Stated Value Insurance: For daily drivers
HAVE IT PROFESSIONALLY APPRAISED.